Less Stress, More Fur
A furry visitor visits MBMS
On September 24th, MBMS had a furry visitor. Meredith and her handler, Officer Sharon, stopped by to relieve students of stress during lunch. Meredith, a Golden Retriever and Labrador mix, was ready for snuggles and many students showed up to supply them. According to Hopkins Medicine, petting a dog can reduce stress by telling your body to release a hormone. "The social interaction between people and their dogs actually increases levels of the feel-good hormone oxytocin (the same hormone that bonds mothers to babies)," Hopkins Medicine states.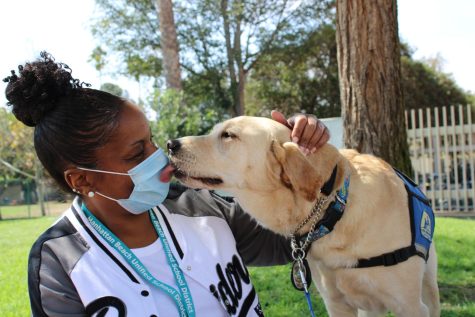 Meredith, who was born on September 17, 2015, came to Officer Sharon when she was two. Before that, she was raised as a service dog. She went to concerts, parks, and other environments to learn how to react to different situations. Today, Meredith doesn't just go to schools to volunteer. Meredith is a facility dog, who mainly helps people with rehabilitation. When people need to go to court or talk to detectives, it can be very nerve-wracking. "We can be there as sort of a calming force," Officer Sharon said. Meredith also helps disabled people learn to be gentle, through petting. Meredith occasionally goes to hospitals because most hospitals have their own team of therapy dogs. Another thing Meredith's job entails is constant cleaning. Officer Sharon bathes Meredith every 2 weeks and brushes her teeth every morning. Sharon also wipes her down constantly, and cuts her nails once a week, as well as cleaning her ears. She has to be cleaned so much because she gets petted so much and needs to look good for her friends and photos.
Meredith is a sweet, funny girl. She is very food-motivated and will do anything for a treat. Her favorite treats include carrots and ice cubes. Meredith came from a program called K9 Companions for Independence, which have bred their service dogs since the 1970s. They have bred the best qualities in their dogs which include calmness and intelligence. Meredith is very calm and knows over forty commands. During the interview, Meredith began to pose, which is one of the many commands she knows. During the pandemic, Officer Sharon and Meredith could not go to many places. Officer Sharon noted that, "Being in schools is such a novelty." We also began talking about personal pets and Officer Sharon brought up a good point about how we all relate to each other through our pets. "Everyone says, 'We can't have emotional support dogs,' but really all our dogs are emotional support dogs."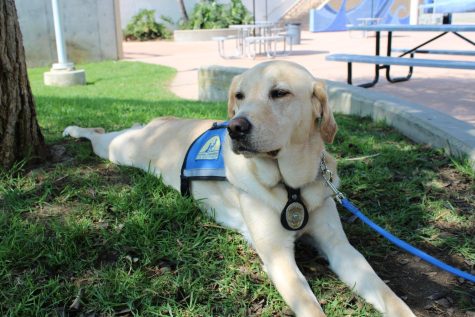 Students showed up to meet with Meredith and enjoyed the experience. "It was fun to have a break because I normally don't get that in school," eighth-grader Sara Torres remarked. Each student got to meet with her for 2 minutes and then were allowed to go back in line if they wanted more snuggle time. Near the end of the meet and greet, over twenty students were in line. Meredith even has her own badge. Mariah Gorlero (6) said, "Petting her made me feel a lot more safe because of her badge." Throughout the visit, Meredith was wagging her tail and getting lots of attention. "It made me feel happy [to meet her] because she was soft and was wagging her tail," seventh-grader Claire Jang said. "She was like a pillow." Students also got to head home with a card with info on Meredith.
Meredith made a lasting memory on campus. To end with the words of our vice principal, Mrs. Aguero, "The dog is so fluffy. My life is complete."
To learn more about Meredith and Officer Sharon, visit Meredith's page on the Redondo Beach website: Meet K9 Meredith.
Leave a Comment
About the Contributor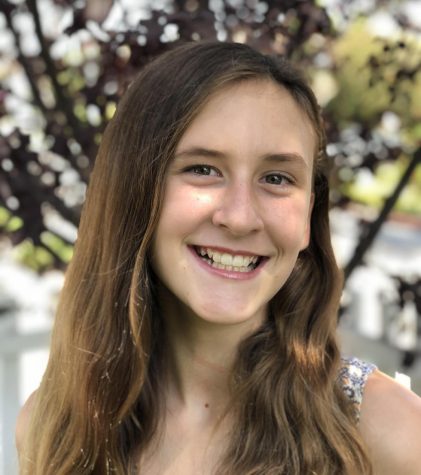 Paige Gilmer, Staff Writer
Paige Gilmer is a 7th grade student at MBMS. Paige enjoys playing volleyball and loves riding horses! You can usually find her hanging out with friends...