Are we Ready to "Ban the Bottle"?
You may have heard of "Save the Turtles!" but get ready for "Ban the Bottle!"
The MBMS Grades of Green Club, which meets every Wednesday in room 222, is launching a campaign to get rid of all drinks that are sold in plastic bottles in the Manhattan Beach School District. To accomplish their goal, they have put together an online change.org petition to gain support for this issue and are asking MBMS students to sign the petition and spread the word to others.
The Grades of Green students are concerned about the amount of plastic water bottles sold in our school district because of plastic's harmful impact on the environment and our health. They have found that over 8 million tons of plastic is found in the ocean every year, and a lot of the microplastic is consumed by sea animals every day. Coda Christopherson, a passionate member of the MBMS Grades of Green Club told us that we "need to save the ocean for future generations."
According to the Grades of Green member, Siena Agens, the Grades of Green team discovered that "the chemicals from plastic bottles leach into the liquid inside, which is unhealthy for us and can cause disease and certain cancers". For the safety of humans and ocean creatures, this team of eco-leaders want to take action and with the student body's help they believe they can accomplish their mission.
The goal of their petition is to have the school board ask their vendors to stop supplying them with these plastic bottles. As an alternative, the Grades of Green Club has decided to stick with the aluminum water bottles already being sold at schools in the district and place more hydration stations around MBMS. This way students can still buy drinks when they forget their water bottles and refill their reusable water bottles using the hydration stations. Flyers will be displayed throughout the school and the Grades of Green Club will be attending a Unified School District Board Meeting to present their petition and campaign in the near future.
View Comments (2)
About the Contributor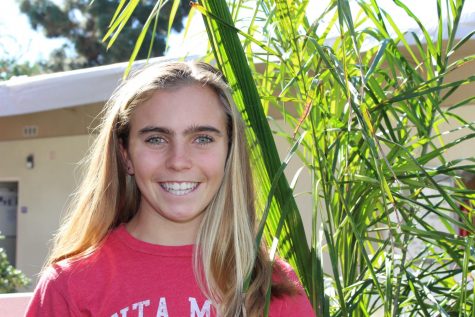 Claire Koerber, Editor
A soccer and lacrosse player, Claire Koerber loves being with family and friends. Most of the time you can find her finishing up school work before heading...