New Science Boards
Science teachers receive new interactive touchscreens to replace outdated whiteboards, projectors
In the past couple of weeks, all of the MBMS science teachers have received new boards in their classrooms. For many years, classrooms have only had pull down projector screens. It was time for change. To fix this, new touch screen boards were added to the classroom. These new boards are touch screen projectors that you can write on, highlight important facts, and more. The purpose of these new touch screen boards is to make teachers' and students' experiences more fun and trouble-free.
Sophia Alisil is a 7th grade student who is in Ms. Perez's science class. She used one of the new boards during class and loved it. "The science boards are great," Sophia said. "They help my learning because I can go up and interact with it myself. It is very helpful because I can see all of Ms. Perez's writing much more clearly, making it easier to take notes." Sophia loves how the boards brighten up her classroom. She believes that the boards make the classrooms more unique because you can doodle and draw. "Instead of coming up to explain your reasoning, you can just draw on the board. It works very well with Kami," she said. Kami is an interactive website that you draw with to make your answers. Before the projectors were added, Ms.Perez would have to fill it out for students, but now they can go up to the board and draw on their own. Overall, students like Sophia are very glad that these boards were added to the science classrooms.
The teachers like them, too. Ms. Perez is a S.T.E.M. and 7th grade science teacher. She recently received an interactive board. "My old projector was in bad condition from a science experiment gone wrong. The board was stained blue, making it hard for students to see," Ms.Perez said. These boards bring many benefits to the teachers, such as brighter boards so the lights can be on and students can still see. Ms. Perez loves how interactive the new technology is. "The board works well with Kami because I can edit a document straight through the board." The boards allow teachers to stay at the front of the classroom because they don't have to go back to their computer to change the assignment, scroll down or take notes. Ms. Perez thinks these boards are fun and interactive, which improves her students' learning.
Mr.Leonard is a 6th grade science teacher who has also received a new board. "My old projector was here five years before I started teaching at MBMS, so it was at least nine years old," Mr. Leonard said. Mr. Leonard loves how these boards have a 'throw' feature. The throw feature is a way that students can pair up their computers to the screen, making presentation much easier. He is glad that now students at the back can see better and that it is more interactive. "These touch screen boards are more equitable for maximizing students' learning," he said. These boards help give a better learning experience to the students and make class time much more fun.
The new boards are a great addition to MBMS. They make class time much more fun, interactive, easier to see notes, more accessible for teachers, and have great features to make previously complicated learning assignments easier to complete. Teachers and students love these boards and their experience with them. If you have not seen or tried these new boards, you should go and take a look for yourself!
Leave a Comment
About the Contributor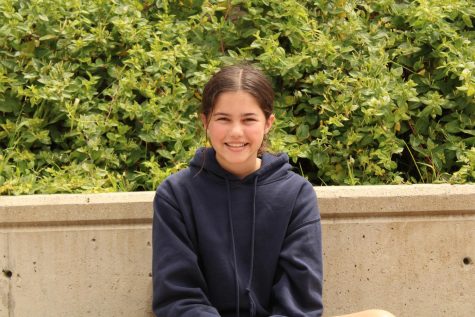 Leighton Sullivan, Staff
Leighton Sullivan is a 7th grade student at Manhattan Beach Middle School. Leighton loves hanging out with her friends and going to the beach with them....