Movies for Halloween
(Editor's Note: This story was delayed but we thought it would still interest everyone. Our apologies to our awesome staff writer for the delay.)
Fall has officially begun this year! Nationwide, people are getting ready and decorating their homes for the season. Along with decorating homes, one of the world's favorite Halloween traditions is watching Halloween movies. There are tons and tons of Halloween movies available to watch. But everyone has at least one favorite movie that they love to watch every year. Many enjoy Tim Burton's The Nightmare Before Christmas, It's The Great Pumpkin, Charlie Brown, Hocus Pocus, Coraline, and many more.
Across the United States people have shared what movie is most popular by state. In 2018, California's favorite PG Halloween movie was Coco, while Michigan's was Ghostbusters, and North Carolina's was Scooby-Doo! Movies can range from fun childhood movies to spooky horror movies, everyone has a different preference for a favorite movie genre. There are so many exciting movies for all age ranges to watch, so everyone can have their favorite Halloween movie no matter how old you are.
Seventh grader Lachlan Murphy loves to enjoy horror movies. His favorite Halloween movie is appropriately called Halloween but he also recommends the movie, "Hereditary, because it's an actually scary movie." Lachlan doesn't get scared by many things like clowns, ghosts, zombies etc. but he would rather watch a horror movie than a more kid-friendly and happy movie.
Due to COVID it will be hard to go trick-or-treating. But that doesn't mean that people can't celebrate this spooky holiday. This year Lachlan has different plans instead of going out trick or treating like what most of us would be doing this year. He says, "This year for Halloween I'm going to hang out with some friends and watch a Halloween movie." This year some candy and a Halloween movie can be the trick to having a fun Halloween. Annika Messenger, another seventh grader at MBMS has some more fun plans for Halloween, "Normally I would be working at a Haunted House scaring people, but this year I want to buy a bunch of candy and showering myself with it." Besides from showering herself with candy, Annika also might have a friend or two over to watch movies.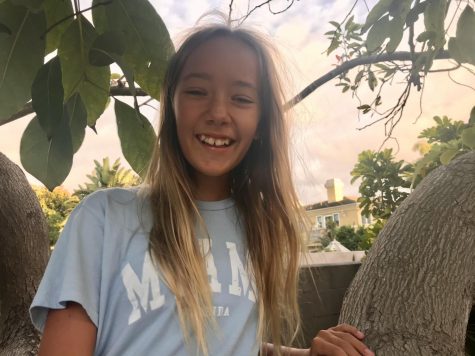 Annika loves to watch Halloween movies, "My favorite Halloween movie would have to be The Nightmare Before Christmas. I love this movie because it is a classic, and it is by Tim Burton." Even though Annika usually works at a haunted house on Halloween she still gets scared by things. Annika says, "Whenever I get scared of something I will usually scream or I will drop my phone from getting spooked."
Leave a Comment