First Weeks of School
Welcome back to school! This year has been very different than most, but we will still have another amazing year. Since we are starting the 2020-2021 school year virtually, we are still thankfully getting to see each other. Even if we are only getting to see others through a screen. After a nice summer vacation everyone should be slowly getting back to their school schedule.
Stay organized and diligent so far this year, whether this means finishing homework before the period ends or learning all of zoom etiquette. This year, MBMS students are going to have to be very responsible and have good time management. Now that they will not be inside a classroom, students are having to find a good work space that has little distractions so they can focus all day. But we should all know that 2020 has been full of changes. So if you have a hard time starting school just remember we are all going through the same thing so no need to stress over school.
If you are not doing online school at your home you might be doing school in a small group called a Pandemic Pod. These are usually around three to ten students that are in the same classroom or house all learning together. These Pod classes can help with many challenges of online school. For example, it can help students with any class work that they have, students can still work together in school, and it can help if parents have full time or busy jobs. This has been a new trend happening ever since the new school year has started, and it is happening nationwide. Typically these classes are still socially distanced and have a certain number of kids.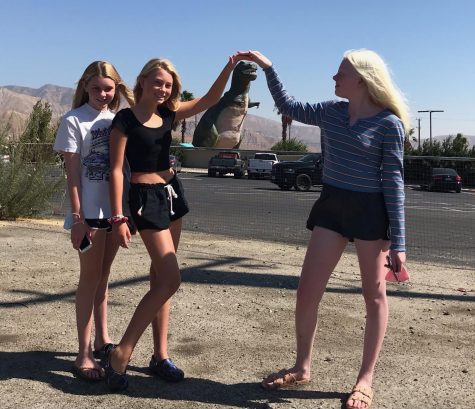 While starting classes online, it is good to still stay in touch with friends and to get time away from all your screens. Current seventh grader Georgie Phillips says that something she does after a full day of zooms is, "Drinking lots of water, and trying to go get outside." It is very important to start and end your day with a good and positive attitude. Every morning, Georgie eats a good breakfast so she can be energized for the day. Another way Georgie Phillips gets ready for the day is, "Waking up an hour before school, and going to check her device fifteen minutes early to make sure that zoom is working."
Kaela Kaiser also had some very smart ideas and tasks that she does during a regular day of online school. Besides taking a break from the screen by playing with her two dogs, Bear and Tucker, Kaela has been enjoying learning in her classes such as Spanish. Kaela says, "Spanish is my favorite subject because I like learning a new language." Online school can have its ups and downs. "Figuring out lessons and how to do them online can be a hard part of online school," Kaela said. We are all learning the news ways of the school year day by day, and definitely all together.